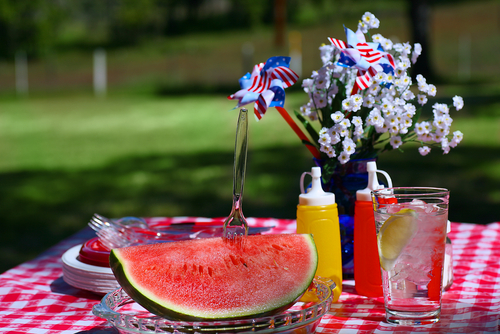 Fire in July
It's hot in Missouri, and this year's predicted to be another scorcher. There's just no beating that July heat during the day. Of course, our Holiday Inn Executive Center knows a thing or two about staying cool indoors while having fun. Then again, everyone's bound to feel a little cooped up at some point, which is why so many of Columbia's downtown hot spots are staying open late into the night, when the temperature at last begins its slow descent and begins to resemble something comfortable. Although the Fourth of July always promises fireworks, you'll be having too good of a time to notice when the air jumps up a few degrees.

The city of Columbia's department of Parks and Recreation has set itself up once again in Flat Branch Park, a quick 10-minute drive east of our hotel. As usual the festivities will begin to kick off early, so that children of all ages can get in on the fun. There's an inflatable obstacle course for kids to climb through and whimsical crafts and activities. Groups are encouraged to camp out and picnic up a storm (alcohol and cooking grills are not permitted) throughout the afternoon. As evening begins to set in, local radio station BXR presents the Ironweed Bluegrass Band, who will take the stage followed by the Kansas City Street Band.

The greatest show in red, white, and blue screams across the sky promptly at 9:15 p.m. Fireworks, coming up! This most patriotic of big bangs will be choreographed to music simultaneously. Be sure to tune into 102.3 FM and crank up the volume, or you might not hear anything under the sparkle, crackle and ka-boom. One final helpful tip comes courtesy of the city's website are: Instead of rushing to find your car, stay after the fireworks are gone and stroll around the local businesses. You'll kill two birds with one stone, stretching those criss-crossed legs and avoiding the traffic congestion.